The overall Malaysian property market continues to be subdued as investors persist with their wait-and-see approach, said property consultancy Knight Frank Malaysia.
In its "Real Estate Highlights for 1H2017" report, Knight Frank Malaysia pointed out that developers are scaling back on new property launches, especially in the high-end condominium market amidst continued weak demand.
KUALA LUMPUR
Kuala Lumpur recorded lower volume and transaction value in the condominium/apartment segment with 1,247 transacted units valued at RM975.88 million in 1Q2017, 12.2% and 5.9% lower than 4Q2016. The cumulative supply of high-end condos stood at 47,380 units in 1H2017 following the completion of three projects — The Sentral Residences, Arcoris Mont'Kiara and 28 Dutamas, contributing a total of 1,333 units," stated the report. Another eight projects totalling 2,979 units are scheduled for completion by 2H2017.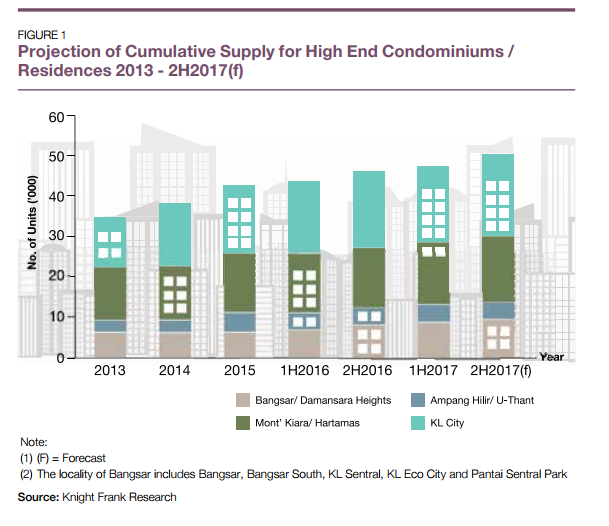 On the high-end condo rental market, Knight Frank said there was no sign of recovery where asking rentals in KL City, Damansara Heights, Bangsar and Mont'Kiara remain under pressure. Meanwhile, newly launched projects are priced from RM1,000 psf onwards.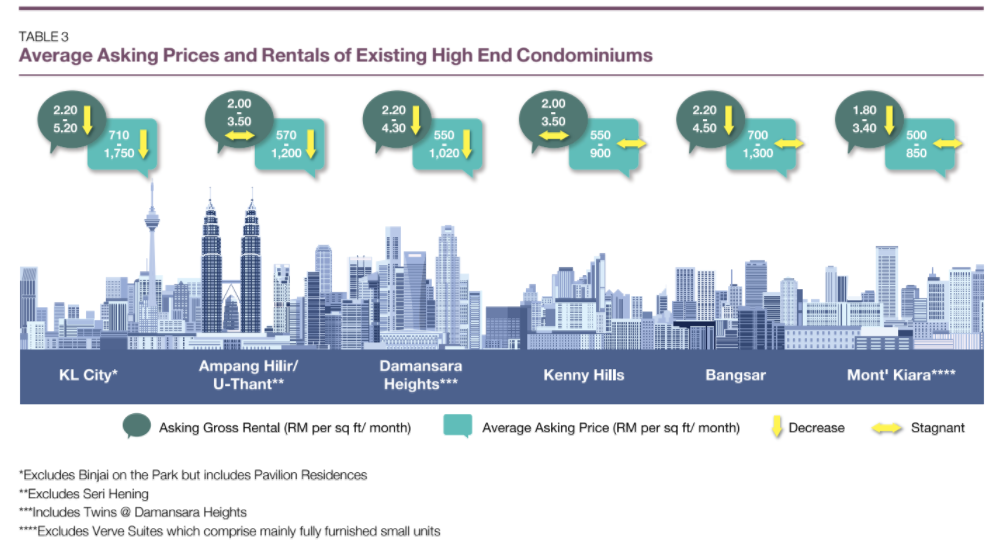 Over in the secondary market, transacted prices of smaller condos with built-ups of below 800 sq ft such as Marc Serviced Residence and ViPod Residences in KL city centre remained resilient at RM1,600 psf to RM1,800 sq ft.
"Despite the soft market, asking prices continue to remain relatively stable although vendors are more flexible in negotiations," added the report.
PENANG
The residential markets in Penang and Johor have also been lacklustre.
There were no launches of high-end condos on Penang island in 1H2017 while there were fewer transactions on the secondary market compared with 2H2016. Asking rents were stable.
"For large-sized units in Tanjong Bungah, asking rents generally range from RM1.10 psf to RM2.00 psf per month while the upper band of asking rents are also noted to be stable, ranging from RM2.10 psf to RM2.60 psf per month.
"For similar sized units in Gurney Drive, asking rents vary from RM1.90 psf to RM2.80 psf per month. For smaller sized units in Tanjong Tokong and Gurney Drive, asking rents are in the range of RM2.20 psf to RM2.90 psf per month whilst some landlords are still asking higher rents of RM3.00 psf to RM3.80 psf per month," said Knight Frank.
JOHOR
In Johor, the most active district is Johor Bahru, followed by Batu Pahat and Kluang, with 49.5%, 10% and 8.6% share in transaction volume, respectively. Terraced houses proved to be the most popular, accounting for 61% of total residential transactions.
The report said local developers in Johor are bracing for an extended quiet period as potential buyers are now spoilt for choice.
"Nevertheless, we noted that the secondary market for landed properties below RM600,000 are still in demand," it said.
KOTA KINABALU, SABAH
In Kota Kinabalu, Sabah, the residential segment accounted for about 60% of the state's total transaction volume and about 49% of total transaction value in the state, as of 1Q2017. Transaction volume and value were up 29% and 34% respectively, compared with 1Q2016.
However, there will be a major influx of high-rise residential units into the market with about 15,907 units currently in the pipeline, which will take some time for the market to absorb.
Despite the overall subdued market in 1H2017, Knight Frank Malaysia managing director Sarkunan Subramaniam said the recent rebound in the country's economy coupled with the strengthening of the local currency and stable employment market, among other positive developments, offer a ray of hope for recovery in the high-end condo market.
"Looking forward, the total number of high-rise residential units will surpass the landed residential stock in the near future.
"However, we still maintain our view that prices of residential properties in good locations are expected to hold and there are also increasing demand for affordable homes as the market is dense with first-time homebuyers and young families," he said.
The report also noted that China's recent regulatory changes over international monetary transfers continue to impact projects targeting buyers from mainland China and it is expected to further dampen the high-end condo segment, which is undergoing self-correction and amid widening gap between supply and demand.
During such challenging times, developers will continue to tweak their marketing strategies to sustain earnings through "stock clearing" of completed and on-going projects, according to Sarkunan.
He said developers are also seizing opportunities in this soft market to increase their landbank in strategic Klang Valley locations such as those along the rail transportation routes for transit oriented developments (TOD) and affordable-cum-mass housing projects.
"Moving forward, Malaysia will remain as an attractive investment destination with its stable property market and relatively low entry prices that continue to offer reasonable returns," remarked Sarkunan.
source: TheEdgeProperty